Ask Yourself This Question: What's The Best Way To Sell Your Car?
So you want to sell your car? But what's the best way? Well, it seems the best way to sell your car all depends on you and your car. A vehicle is a big investment, so when you decide to sell a vehicle, you want to find the best way. The sheer amount of advice out there can be overwhelming for a first-time seller. So you have to ask yourself what are you looking for? Do you want to get the most money or cash in hand? Perhaps you want to trade in your old model for a newer one? Or do you simply have to sell as quickly as possible? By narrowing the scope of your question, a potential seller can set themselves up for a more rewarding selling experience for themselves, as well as a better buying experience for someone else. Luckily, at Coyle Chevrolet Buick GMC, we've got you covered.
Research Your Value
Now, as with anything that requires a specific answer, it can only help to narrow the field as much as possible. You want to sell your car, so it's good to ask yourself a few follow-up questions before heading into the dealership. How much is your current used car worth? What is its current condition? Fair? Very good? What about mileage? And any wear and tear? Even little things like the smell of cigarette smoke, a minor fluid leak, or a patch of rust can affect the sale or trade-in value of a model. Your vehicle might be older but have only a few miles on it, or maybe it's a special edition.
One other good thing to keep in mind, the season. Naturally, spring or summer would be a great time to sell a sports car, but in the winter, expect to get a little less. Not to mention, consider the area you're in. If your model is in high demand, you could perhaps expect to get a little more than average. The value of a convertible sports car would naturally be higher in a warm southern state than on snowy, icy roads in the northern parts of the country. These specs can all factor into the final number you can expect to get for your vehicle, so it's important to research using credible sources to find the best, most up-to-date information possible.
Checking out our online trade-in value calculator is a good step in establishing a ballpark figure of what your used vehicle may be worth. But please keep in mind while online calculators are good jumping-off points in assessing your current model's value, they are just an estimate. The best way to figure out your car's current resale or trade-in value is to talk to one of our sales associates because even the best calculator can't tell you everything.
Another thing you might like to think about is the history of your car. If you bought the vehicle used and don't know the details of its past, it might be a good idea to run a car history report before heading to our dealership. A history of accidents could possibly affect the car's overall value. The more information you have on your car, the better.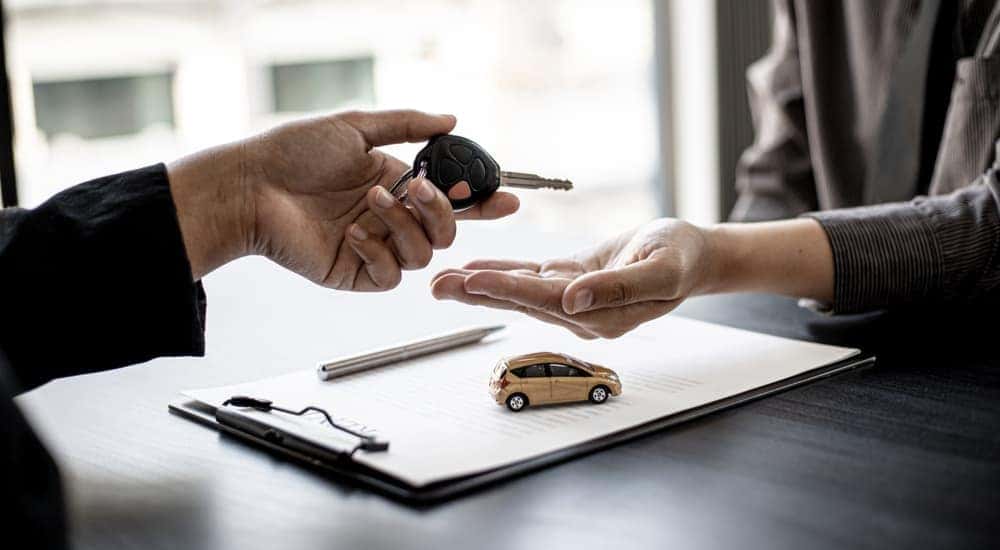 Taking the Next Step
So you've done the research on your car and have a fairly good idea of what it's worth in its current condition. You've established the framework to make the best possible decision for yourself; now, you can decide the best way to go about it. You know you want a smooth and easy sale. Well, good news: we handle trade-ins and sales for used vehicles; no purchase necessary. It doesn't get much easier than that!
Once you've decided to visit us to sell or trade in your vehicle, there are a few steps you can take before your arrival. Have it cleaned and ready to be looked over by our technicians. Bring along any documents you might need, including the car's title, registration, and insurance information. Plus any extras you have, like additional key fobs, can only help get you the most out of your used trade-in or sale. You can call us ahead of time to make sure someone will be available to help you, or simply show up and be clear about the reason you're there, either to sell or trade-in, so we can point you in the right direction for a hassle-free experience. It all depends on your comfort level and the time you have to spend at the dealer. If there is paperwork to be filled out ahead of time, calling ahead can help you prepare and speed up the process once you arrive.
Away You Go
Ready to get started? Great! Finding our dealership is quick and convenient. We're conveniently located at 1801 Broadway Street, a short drive off I-65 in Clarksville. Want more specific directions? You can use the map on our website, or just give us a call, and we will be happy to point you in the right direction. Also, make sure to check out our hours as sales and services hours can vary. Again, feel free to give us a call or send us an email to set up an appointment ahead of time.
Now you've had your car cleaned and have any paperwork you'll need. You've done your research and have some numbers in mind. Now is a good time to talk to an associate. Upon arrival, your car will be looked over by our certified technicians, and the associate should be able to pull up the history of the vehicle. Together you can talk over your options of whether you wish to sell or trade-in and the pros and cons of each. Remember to be realistic in your expectations and flexible with the options they present you. It's our job to make the process as easy and painless as possible.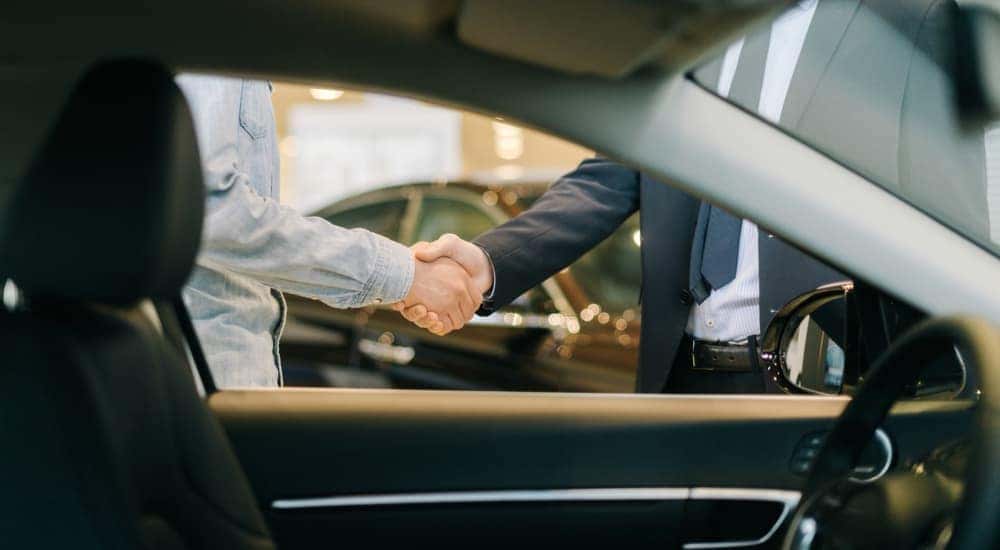 In an Instant
Did you know Coyle Chevrolet Buick GMC provides instant cash offers? This might be an option to consider if you'd like that cash in hand as quickly as possible. Instant cash offers are convenient and easy to do. First, tell us about your car (this is where all that research you did will come in handy.) Next, Kelly Blue Book will calculate the worth of your vehicle. The offer we give you will be good for seven days, giving you plenty of time to make a decision. Then simply drive your car to our dealership and redeem the offer. Once there, we'll look over your car and double-check its condition and any information you've provided on the vehicle. You can decide if you'd like to simply take the check or put the offer towards another vehicle. Either way, you can't lose!
To see if your car qualifies, check out our website under "Instant Cash Offer" or contact us to talk through your options. Also, feel free to fill out one of our trade-in-forms. Trading in or selling a car can be stressful enough, so we go that extra step to make it even easier by giving you the option to bring your car in for an estimate, or we can even send an estimator to you! Even photos of the vehicle are acceptable for assessment.
Selling your car here at Coyle Chevrolet Buick GMC is a hassle-free way to replace your current ride or simply sell for cash in hand. So call or stop in today and see what we can do for you.