Pushing Adventure to New Limits: 2022 Chevy Silverado 1500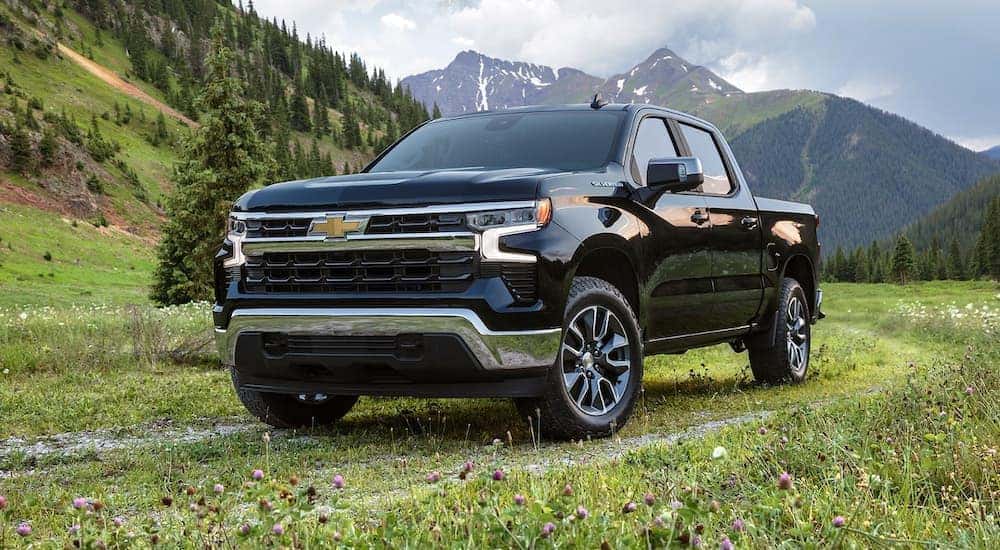 Everybody needs an escape from the noise of everyday life. Whether trying to take a break from the bustle of Louisville or just get a quick getaway from homelife, when there isn't a vacation home, or even a quiet space at your house to turn to when you need to find your chi, the next best place is your vehicle. You get behind the driver's seat and block out any unwanted noise with the windows rolled up while listening to your favorite music to unwind. If you decide to escape on an adventure, you can just sit back and relax and let the road take you away. For 2022, here at your Clarksville, IN, Chevrolet dealership, we are excited to announce you can escape on adventures deeper into the wilderness than ever before in the new 2022 Chevy Silverado 1500.
What's New for 2022
Chevy's full-size pickup, the Silverado 1500, has been a fan favorite to truck lovers across the board. On top of its versatile capabilities for use as a work truck and a family vehicle, it is hard for anyone to refuse the good looks and charm that go along with its abilities. Through the years, the beloved Chevy Silverado has continued to evolve to ensure consumers are getting exactly what they need for both work and for the family while still satisfying their desires for comfort, technology, customization, and play. It is hard to improve what seems already flawless, but Chevy has once again delivered us a Silverado beyond our imaginations. The end result is making Silverado history.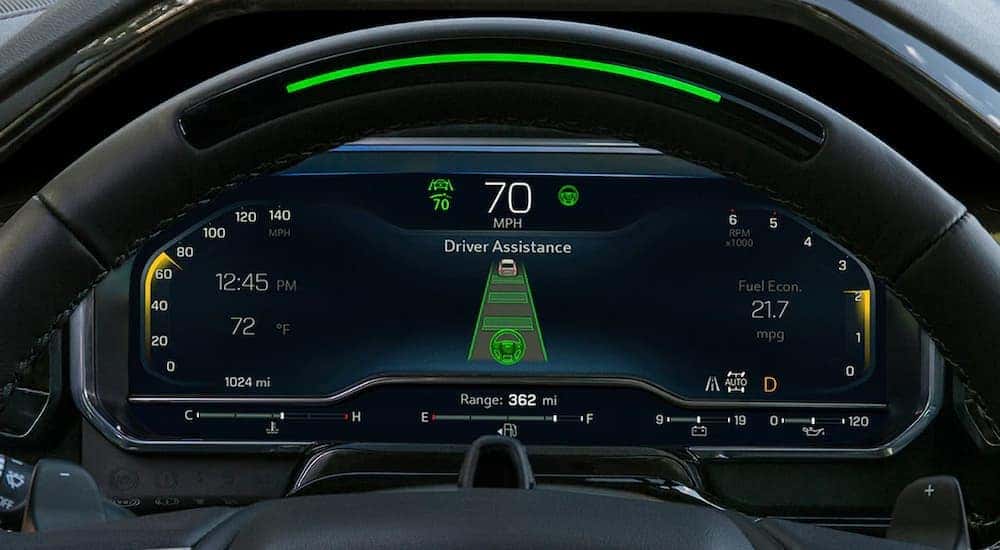 Interior with Improved Functionality and a Bold Design
When you end up using your truck as your getaway from the craziness of life, you need to be sure you can enjoy the luxury of comfort and convenience also. With the 2022 Chevy Silverado, you can expect nothing but the best. Sit back and relax with comfortable seating available in new colors and premium materials and enjoy the convenience of integrated technologies like Google built-in capability, allowing access to Google Assistant, Google Maps, and Google Play for voice-activated navigation and access to your favorite Google playlists. But when you do hit the road, you are going to want more than just access to your favorite music.
The newly designed interior puts the focus on you, the driver. The panoramic view of the connected 13.4-inch diagonal infotainment touchscreen and 12.3-inch digital instrument cluster provides a driver-oriented interface and a more spacious feel, while the user-selectable layouts display information meeting the needs of any drive. Plus, with the available Head-Up Display and Rear View Camera Mirror, the interior really comes to life, making your driving experience a whole lot easier. Not to mention a more functional center console and available electronic shift control giving the interior an even more premium feel for you to enjoy.
Enhanced Exterior Design
For 2022, Chevy has managed to deliver a Silverado with a more confident and aggressive appearance, from a redesigned grille and front fascia with lowered headlights to new wheel options ranging from 18-inch to 22-inch that maximize capabilities for work and play while giving the Silverado a more rugged appearance as well. The Silverado's class-leading cargo bed volume of 89.1 cubic feet and 12 standard tie-downs, along with the available six-position Multi-Flex tailgate, makes utilizing your pickup for work or after-hours easier than ever before. Plus, with three new exterior colors to choose from, you can easily customize the appearance of your Silverado to showcase your personality. But if you are looking to escape the monotony or craziness of the day by going on an adventure into the untamed parts of Indiana, you should check out the Silverado's new trim that will push your adventures to new limits.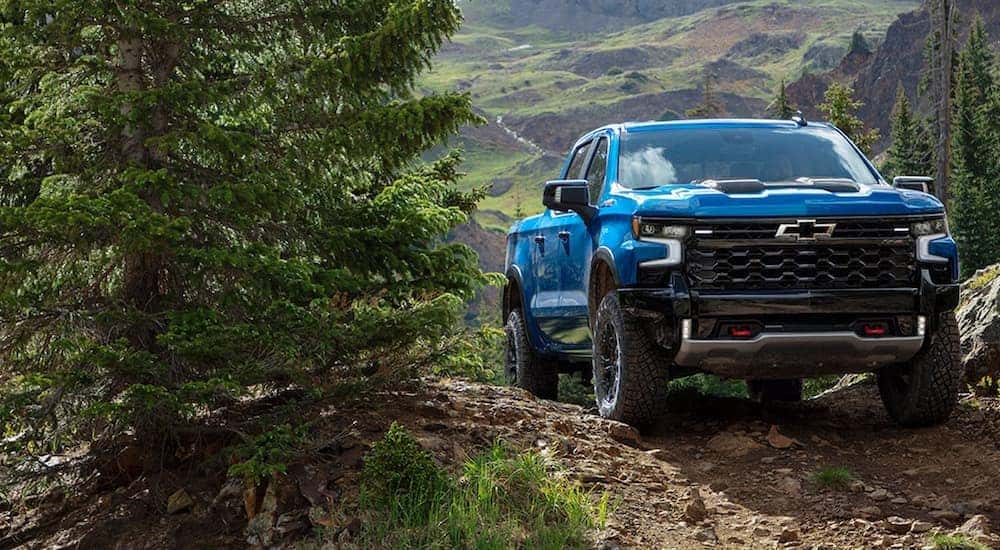 All-New Silverado ZR2
Chevy is taking its renowned Silverado 1500 to new heights, answering the demands for work, family life, and play, with more than just refreshing upgrades to the interior and the exterior design. For the first time in history, Chevy has introduced a Silverado worthy of taking to the trail straight from the showroom floor. No modifications are needed before an off-road excursion into the wilderness to escape your norm when you choose the all-new 2022 Chevy Silverado ZR2.
In addition to the other eight trim levels, the first-ever ZR2 models bring customizing your Silverado to a whole new level. Falling just under the top-level High Country trim, you can expect a mix of comfort, luxury, and impeccable off-road capabilities straight off the factory line. When it comes to finding a worthy distraction, escaping on an adventure in the Silverado ZR2 will bring you beyond where you thought you could ever go on a whim.
Designed for both daily use on the tarmac and frequent off-road excursions, the Silverado ZR2 stands apart from others in the 2022 lineup with its bolder and even more aggressive appearance. The enhanced design includes raised black hood inserts, a front grille designed for optimal airflow to the engine with the hollowed-out bow-tie logo, functional red tow hooks, and a unique interior that includes Jet Black and Graystone leather trim. For functionality, the ZR2 includes features specifically for optimizing performance in the sort of rough terrains you can find over at the Interlake State Recreation Area.
The Silverado ZR2 comes standard with the 6.2L V8 engine and 10-speed automatic transmission for 420 horsepower and 460 lb-ft of torque, producing enough power to make it through the rough terrains during your adventures. Despite being off-road oriented, the ZR2 can still trailer up to 8,900 pounds or haul up to 1,440 pounds of payload. The ZR2 also comes standard with 33-inch off-road Goodyear Wrangler Territory M/T tires, mounted on 18-inch wheels. The off-road specific chassis with a calibrated suspension, tuned springs, and Multimatic dampers smooths out your ride on any road surface while distributing weight evenly. Plus, with Terrain Mode, you can take your escape to the limits with one-pedal capability for rock crawling or any other rough terrain.
You can stress less knowing your Silverado will also stay protected during the escapes from your daily grind with a skid plate package and steel front bumper designed for added strength, durability, and clearance. The improved 31.8-degree approach angle will help you avoid any obstacles in your path. With the removable end caps on the bumper, even if you do brush against a tree or boulder, you won't have to replace the whole bumper. Plus, with the hidden dual exhaust protected behind the rear bumper, you can be sure that after your late day or weekend getaway into the wilderness, you will still be able to hit the pavement Monday morning to make it to work on time.
Finding Your Escape
When you need some time to clear your thoughts, eliminate unnecessary noise, and be alone to unwind from daily life, you always have your vehicle to turn to. If you are like most of us, quiet is not always enough. Here at your Clarksville, IN, Chevrolet dealership, we want to help you find your escape. Don't let stress get the best of you; distract your mind with exhilarating performance off-road and into the wilderness. Let us help you escape on an adventure with an all-new 2022 Chevy Silverado 1500 model.