How the Silverado 1500 Has Changed Since 2018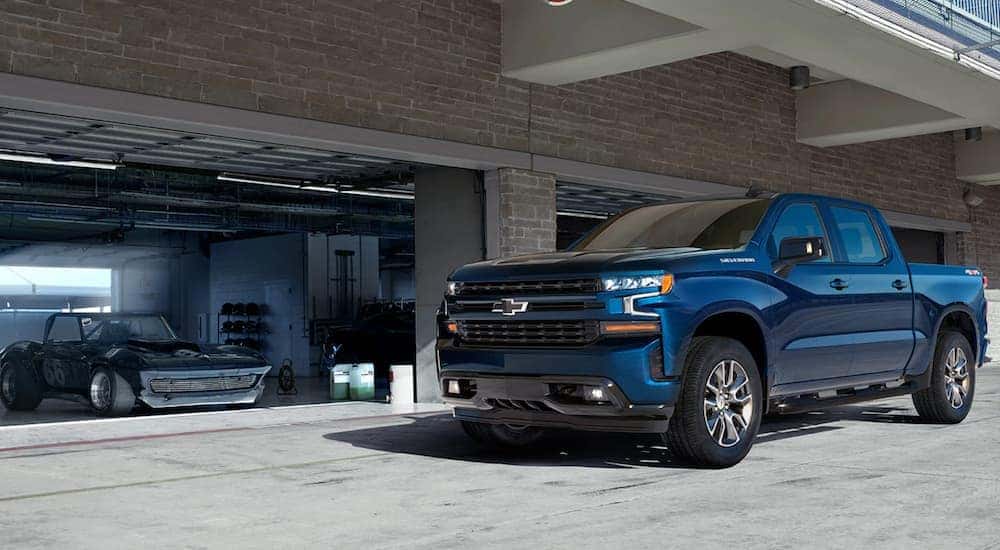 There's a lot that can change in the span of just one year. Think about it for a second; you're not the same person you were a few months ago, let alone a year ago. The makes and models sold by Chevy each year evolve along with us. From year to year, improvements are made, new technology is developed, and as we've seen many times before, the market itself can change quite dramatically from year to year. If you've ever found yourself wandering the lot here at Coyle Chevrolet Buick GMC, you might have noticed that the Silverado 1500 has certainly evolved over the years. Figuring out which model year works best for you might be a choice you're facing. Before you start searching for a "used Chevy dealership near me," it can pay to learn some of the details of how this popular full-size truck has changed over the years. Well, school is in session, and we're about to look at the evolution of America's most popular pickup.
Eyes on the Prize in 2018
Throughout the past decade, Chevy has kept its focus on the continuous technological evolution of its products. While performance has always been synonymous with the Silverado since the truck first started rolling off the assembly lines in 1999, recent years have shown innovations and driver-assist technology becoming more available. 2018 was no exception to this, and the Silverado introduced two new standard features that helped ease the stress of long commutes.
For those who are in the business of towing and trailering, Chevy made things a little easier by making a rearview camera standard on all trims of the Silverado. While nothing will replace the attentive eye of an experienced driver, this allowed for some extra help when carrying any additional weight and keeping an extra set of eyes behind you. Even better, Chevy replaced the dated 4.2-inch screen on the WT with a modern 7-inch touchscreen. These changes make the 2018 model year a great place to start your search for a used Silverado here at Coyle Chevrolet Buick GMC.
Speaking of the long haul and lengthy commutes, 2018 was also the year that Chevy introduced a tire fill alert as a part of its tire pressure monitoring system. This made it even easier to make sure you filled your tires to the right pressure. While it's always advisable to check your tires before leaving on a lengthy road trip, Chevy's system even allows you to keep an eye on them without having to pull over.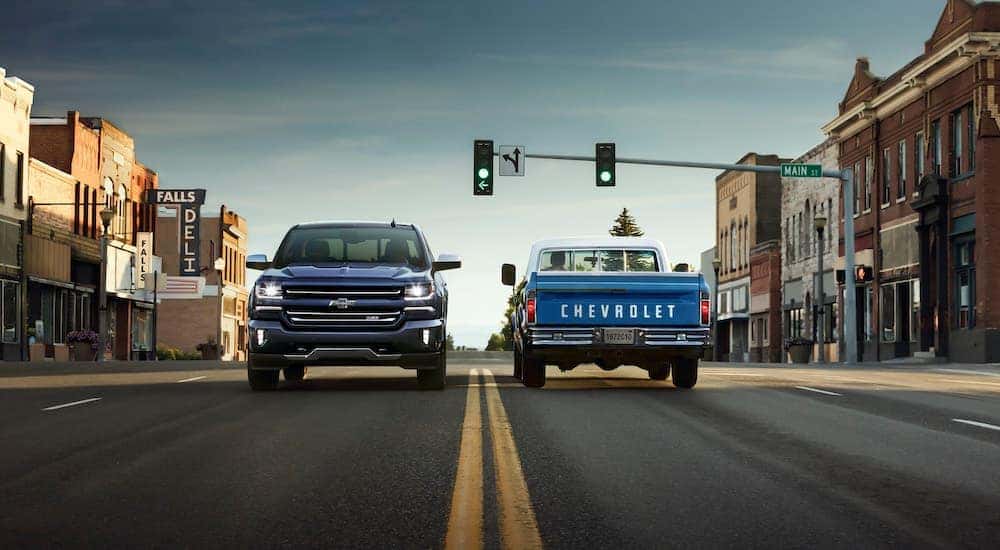 2019: Lower Weight and More Engine Options
As the second decade of the new millennium drew to an eventual close, Chevy moved ahead and introduced an all-new Silverado for the modern age. While focussing its talents on technological advances, the manufacturer proved to be adept in improving its product in other areas as well. This year, the Silverado went on a diet and was now a whole 450 lbs lighter than its predecessors. Composed of mixed materials and a new steel frame that was 88 lbs lighter than before, this innovation benefitted the Silverado's carrying capabilities, including a several hundred pound payload increase.
Aside from dropping a substantial amount of weight, 2019 was also the year where performance was magnified and expanded to offer consumers more options as to what engine they preferred. For those who wanted better fuel economy as opposed to earth-moving power, an available 2.7L turbocharged engine gave drivers a combined 21 MPG. That's not to say this smaller offering lacked in the performance department; 310 ponies of turbocharged horsepower is sure to leave many competitors in the dust.
For those who favored more performance, there were still plenty of alternatives. A 4.3L V6 was still available, bolted to a six-speed automatic transmission, as was the 5.3L V8. Things didn't end there, however. A 6.2L V8 with active fuel management belted out an impressive 420 ponies and 460 lb-ft of torque. Chevy's V8 would also prove to be one of the most reliable engines produced that year, attaining a lifespan of over 250,000 miles. Now that's some serious staying power.
2020: Staying On Target in a Time of Uncertainty
While the innovative shifts in the automotive industry certainly change from year to year, there was little preparation for the world-changing seismic shift that 2020 would bring. With a global pandemic compromising the quality of life for many, Chevy stuck to its ideals. Despite setbacks, the 2020 model year would continue to bring about more important changes to the Silverado.
A pandemic and worldwide microchip shortage weren't going to hinder progress, and Chevy would challenge the popular conception of what a pickup truck could accomplish. Perfecting the diesel engine even more than their competitors, Chevy introduced the 3.0L Duramax Turbo-Diesel. Equipped with a 10-speed automatic transmission, this newest weapon in the Silverado's arsenal offered 270 horsepower and 460 lb-ft of torque. However, the single most remarkable aspect of this redefined diesel was its impressive 27 MPG combined rating. This was the type of fuel economy normally held by four-door sedans, and now it belonged to the Silverado 1500.
One of the other hallmarks for the 2020 model year was the introduction of adaptive cruise control. This made commuting over long distances much easier, as now the truck would not simply follow a preset speed, but would automatically adjust its pace to the overall flow of traffic. If you are shopping for a more affordable trim of the Silverado, then looking at the 2020 model year will ensure you get the modern features you desire.
2021: More Changes to the Silverado
The evolution and innovation with the Silverado 1500 would continue into the following year. Maintaining a stellar reputation and excellent reliability, Chevy would up the ante as far as towing performance was concerned. The impressive 13,400-pound max tow rating with the 6.2L V8 made this the truck of choice for anyone seeking a light-duty tow rig.
2021 would also see the impressive 3.0 Turbo-Diesel and 6.2L V8 become more available and affordable for the average consumer, as the two top engines were now offered on more trims. Never before has high octane performance been made more accessible. As it had done in years prior, Chevy had added even more features to its available trailer packages, giving enthusiasts more control and viewing over their payloads. Fifteen available camera views allowed for more coverage during those long hauls and peace of mind on those long trips.
Learn Which Silverado 1500 is Right for You
The innovations that you'll find in just the last four model years of the Silverado are indeed astounding and fascinating. If you are trying to figure out which model year of the Silverado is right for you, simply pay us a visit here at Coyle Chevrolet Buick GMC. Just as Chevy has continued to develop its fleet to serve its customers better, we believe in providing service that matches and adheres to this same level of dedication. You've read about what Chevy has accomplished, and now it's time to experience that precision engineering and one-of-a-kind performance firsthand. Whether you're a first-time truck owner or a seasoned vet, our team will help you locate the perfect new or used Silverado 1500 for your needs.