8 Great Chevy Models for Louisville Drivers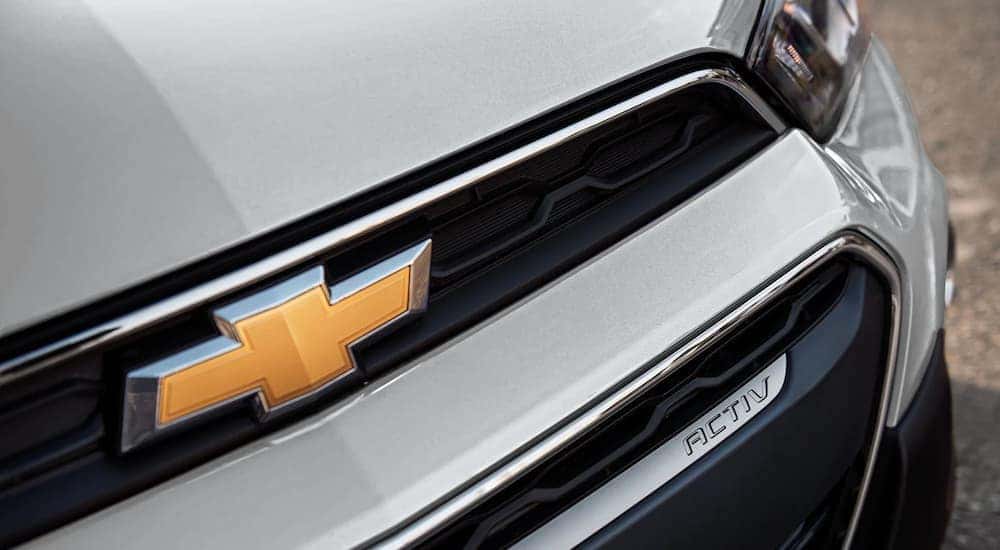 If you are a Louisville Slugger or just one of the other 611,573 people who like to call this place home, you probably need a really good vehicle to get you around this great town famous for its Kentucky Derby. The best place to find a reliable, affordable vehicle is your Chevy Dealer in Louisville. That is because no other automaker builds as many different cars, trucks, SUVs, and sports cars as Chevrolet. Chevy has also been doing it longer than most, going back to November 1911, when Billy Durant and Louis Chevrolet founded the company.
When you stop in at Coyle Chevrolet Buick GMC, you are going to see a vast inventory of new, used, and certified pre-owned Chevy vehicles—all at affordable prices. This is because the folks at Chevrolet know that each driver has different wants and needs. Some people need a pickup truck to help them get their work done during the week, coupled with the outdoor versatility to have fun on weekends. Others are looking to save money on gas, making their commute into town more affordable. Then there are family drivers who need a vehicle with plenty of seating for the kids, the pets, and all friends, both two and four-legged. Only Chevy has a model made for you at a price well within your budget.
Two Great Chevys for the Economical Commuter
#1. 2022 Chevy Spark
Like many of us navigating through this challenging economic time, budgeting wisely and making every dollar count has become essential. This is why you not only need to buy a car that is affordable; you also need to find one with exceptional fuel economy. One of the only cars that check these boxes is the Chevy Spark. This little hatchback coupe is not only cute and fun to drive but also very inexpensive. The base model has an MSRP of only $13,600, making it as easy to fit into the budget of every Louisvillian as it is to park the vehicle.[a] With 30 miles per gallon in the city and an astounding 38 miles per gallon on the highway, the Spark is going to save you a great deal of money commuting from work or school. This means more money in your pocket and less money in your gas tank!
#2. 2022 Chevy Trax
There is a reason why so many drivers looking for an affordable compact SUV have been making tracks to their Chevy dealer for a Trax—this vehicle has a starting MSRP of only $21,400.[a] When you add in the fact that it gets up to 32 miles per gallon on the highway, you can see that the Trax will save you money while you are busy making money at your job. Also, with the Trax, you won't be compromising all the things you look for in an SUV. The Trax can seat up to 5 passengers and has up to 48.4 cubic feet of cargo space available when you fold down the rear row of seats. In addition, the Trax is available with all-wheel drive, giving you added traction when you cruise around the streets comprising the greater Louisville area.
Two Exceptional Chevys for the Family Driver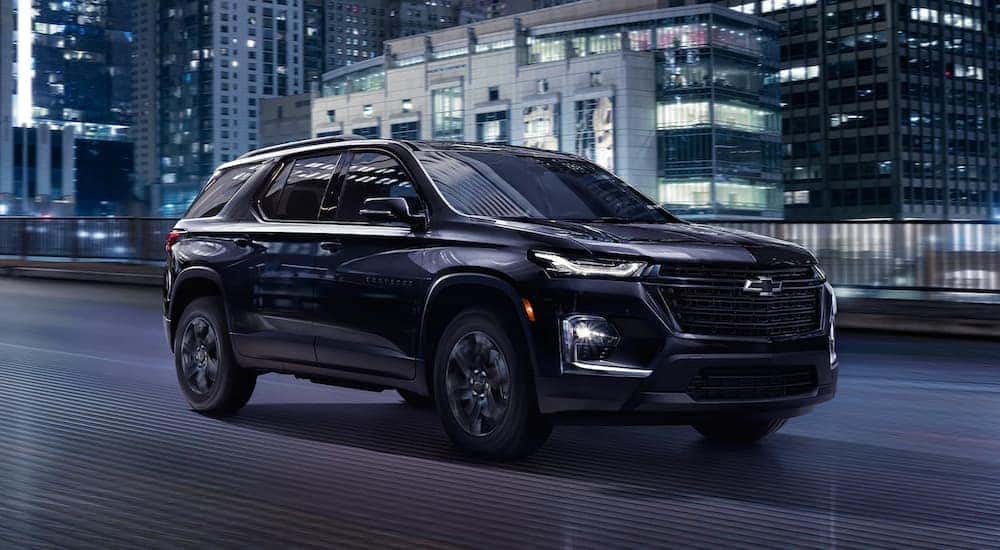 #3. 2022 Chevy Traverse
Louisville families are like most others around the United States. They need a vehicle that is safe, roomy, and affordable. This blend of three distinct criteria makes it necessary for family drivers to buy a three-row SUV. One of the most sporty and economical is the Traverse. This three-row model provides plenty of room for up to 8 passengers, making it ideal for large families. In addition, Chevy has equipped every Traverse model with six advanced safety features under the Chevy Safety Assist suite. This will give you the peace of mind that you and your family can get anywhere in town safely using these amazing driver assistance features.
#4. 2022 Chevy Suburban
Some families lead a very active lifestyle and need more room than they will find a midsize SUV model like the Traverse. This is where the Chevy Suburban comes in. This three-row, full-size SUV has enough room for all your kids' stuff. Is your daughter a goaltender on the local ice hockey team? The Suburban has up to 144.7 cubic feet of cargo space with both rows of seats folded down, so you can fit all her gear and even a hockey goal in the trunk! Maybe your son plays bass in the local orchestra—that huge trunk can fit his acoustic double bass, with plenty of space left over for a Fender electric bass and a Marshall stack amplifier! That is the best in class cargo volume for any full-size SUV. In addition, the Suburban gets up to 20 miles per gallon in highway driving, so it won't hurt you when you stop in to fill it up at your local gas station.
One Amazing Chevy Truck for Work, Play, and a Little of Both
#5. 2022 Chevy Silverado LTD
Louisville is right in the heart of pickup truck country, and no full-size truck is as rugged and versatile as the all-new Silverado 1500 LTD. With three different cab designs, 4 engine options, and 8 different trims, the Silverado 1500 LTD can be configured to meet anything you want to accomplish, whether it is hauling heavy loads, towing large trailers, going off-roading, or just driving your friends and family around Louisville. For example, the 2022 Silverado 1500 LTD can tow up to 13,300 pounds when equipped with a 6.2-liter EcoTec3 V8 gas engine. If you want a truck that can get the job done and provide you with driving fun during your off-hours, you should get a Silverado 1500 Limited.
Three Awesome Chevys for Adventure
#6. Chevy Colorado
Some Louisvillians are always looking for adventure when they are out driving. If this sounds like you, then you should consider a Chevy Colorado midsize pickup truck. This truck gives you two choices based on your desired use. If you are looking to use one for work, you should consider the LT and WT models—the WT actually stands for "work truck." If, on the other hand, you want to take your Colorado out on some of the more challenging off-road trails just outside town, then you should look for a Z71 or ZR2 model. These two are built for adventurers with an off-road suspension system and automatic locking rear differential to reduce or eliminate wheel slippage. The ZR2 even has a lift, giving it exceptional ground clearance, so you know you can get up, over, or around any obstacle in your Colorado's path.
#7. Chevy Trailblazer
The Chevy Trailblazer may look small, but it is fierce. This compact crossover was built with on and off-road adventure in mind. With available all-wheel drive, you can take the Trailblazer almost anywhere you can imagine. The Trailblazer features a unique, sporty look, especially if you choose one with an optional two-tone paint job—featuring a different roof color to accent the body color on your vehicle. In addition, the Trailblazer delivers exceptional fuel economy, with 29 miles per gallon in city driving and 33 miles per gallon on the highway. The Trailblazer was also chosen as a Top Safety Pick+ by the Insurance Institute for Highway Safety (IIHS). So don't let those little looks fool you—the Trailblazer can handle anything that nature may throw its way and keep going.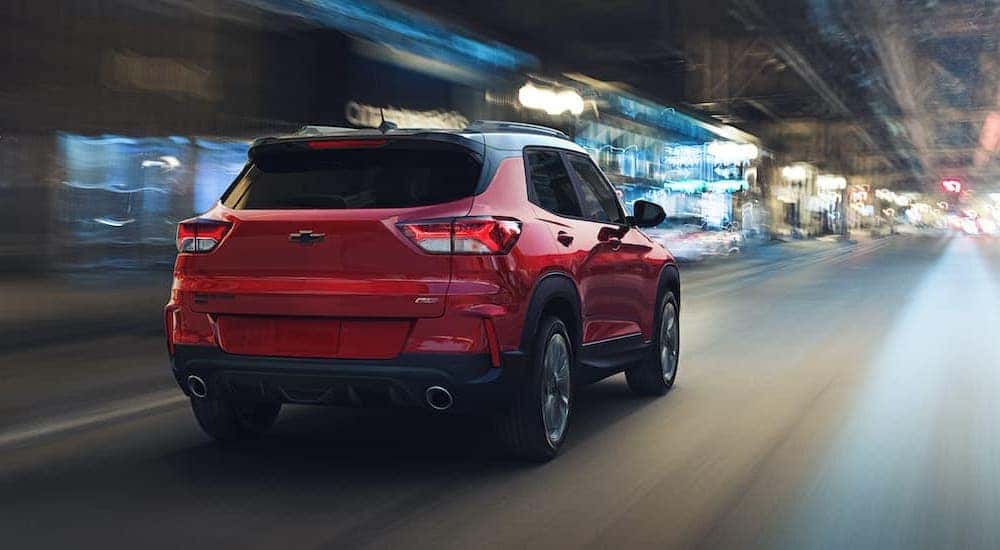 #8. Chevy Camaro
For over 50 years, Chevy Camaro has been providing drivers with muscle car performance at a very affordable price. The 2022 model is no different—with a base MSRP of just $25,000, the affordable price makes it easy to fit into the budget of most Louisville residents, as well as a secondary car if you want something speedy and sporty for cruising around town on the weekends.[a] The Camaro not only talks the talk; it can walk the walk as well. The base model 1LS features a 2.0L Turbo engine with 275 hp, plus 295 lb-ft of torque for the perfect balance of power and efficiency!
Your New Chevy Awaits…
No matter which type of vehicle you desire, Chevy has one for you at a price sure to meet your budget while exceeding your expectations. Come in today to check out the great Chevy cars, trucks, SUVs, and sports cars, and see why Chevy cars and Louisville drivers are the perfect match!
---
[a] MSRP may change without notice. See dealer for complete details.