Striking It Rich With GMC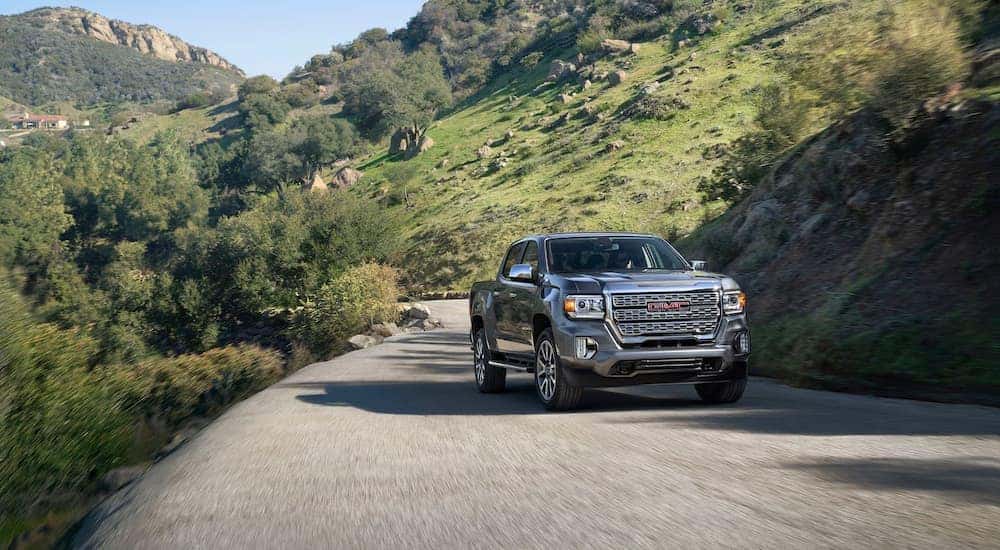 When it comes to finding the ideal pickup truck, there seems to be a never-ending supply of options. Every year, several manufacturers race to outdo one another in terms of new designs, innovations, and even offering incentives to entice the public. Instead of falling for a clever slogan or an array of bells and whistles, why not go for what matters? Results. When it comes to toughness, rugged individuality, and symbolizing the steadfast determination of the American spirit, GMC has long been the foundation that so many rely upon. But before you go browsing through Louisville GMC dealerships or scanning the internet, we invite you to come down to Coyle Chevrolet Buick GMC. Just like the Louisville slugger, we're a homegrown original, and once you come to see us, you'll see why so many have come to depend on us. GMC makes trucks that are meant to get down and dirty and handle the tough jobs, and like the gold miners of old, we've got a guide to strike it rich with one.
GMC Canyon
If there's one thing that can be said about drivers, truck and otherwise, it's that no two are exactly alike. Some need the titans of the road to move the earth, while some need versatility and dependability to get them through the working week. If this is the case, then the GMC Canyon might be the ideal pickup for you. For the millions of people who think you need a big truck to have any sort of usable capability, everyone who's ever driven or owned a Canyon can tell you that this midsize offering has more than enough power.
When it comes to the award-winning performance that GMC is known for, the Canyon does not disappoint. Three engine options are available, all of which are more than capable of handling the difficulties life decides to throw your way.
2.5L I-4: The base offering is still impressive. 200 horsepower and 191 lb-ft of torque are what you receive from this scrappy four-cylinder. Aside from offering some adequate numbers, the engine has earned its stripes, being in use by the GM fleet since 2013.
2.8 I-4 Diesel: For those who want to run on diesel power, your wish is granted! Not only will you be achieving 181 horsepower and 369 lb-ft of torque, but you'll also have remarkable fuel efficiency with a combined 23 MPG. Much like its gasoline-powered counterpart, the Canyon's diesel option comes equipped with a six-speed automatic transmission. For people who need their truck for trailering, it's the ideal choice with a towing capacity of 7,700.
3.6L V6: Upgrading to the Canyon's V6 option will also mean having an 8-speed automatic transmission. 308 horsepower and 275 lb-ft of torque are this engines finest attributes, as is an elevated payload capacity of 1,570 lbs.
The Canyon also exhibits a strong aesthetic that's light years ahead of the other smaller-sized pickups in its class. An intimidating front end and spacious interior provide a unique balance of style and aggression, so you'll look excellent even when you're driving through the mud.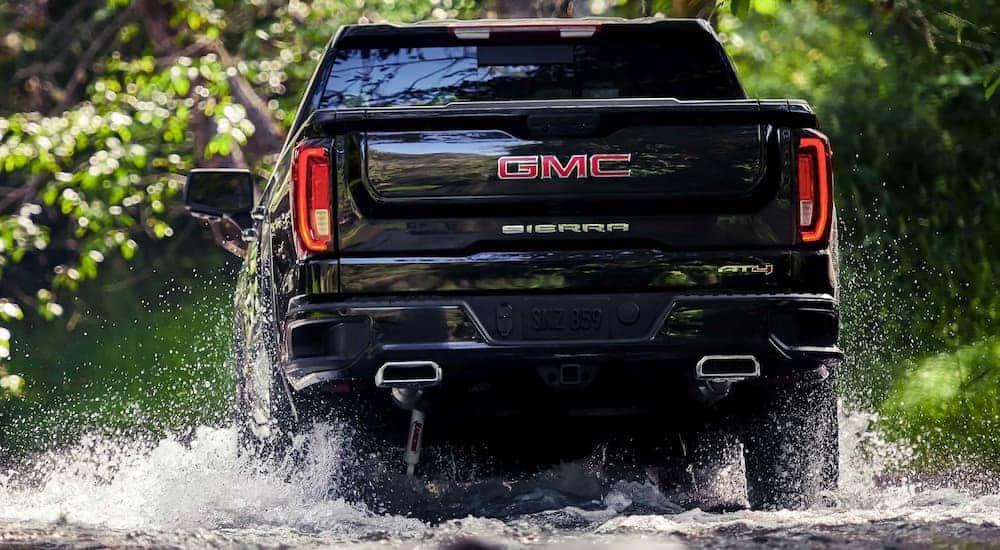 GMC Sierra 1500
Like the Silverado 1500, the GMC Sierra 1500 has long been praised as one of the most dominant pickups on the road. What sets the Sierra apart from many of its contemporaries in the industry is its high-end luxuries, comfort features, and various trim lines that cater to the various whims of its customers. Whether you're in the market for a posh commute or need to get your hands dirty on the job site, there's a Sierra made with you in mind. The GMC Sierra comes with four different engine options, each one impressive.
2.7L Turbocharged I-4: Allowing travel from 0-60 mph in seven seconds, one of the most recent additions to the GM fleet is also one of its most impressive. 310 horsepower and 420 lb-ft of torque were once thought of as being impossible for four cylinders to produce. For GMC, it's just another notch in their belt.
5.3L V8: The first of two V8 offerings for the Sierra, 355 horsepower is streamed from this small block to a standard 10-speed transmission. With the ability to tow 11,200 lbs, you'll have the ability to tackle any workload that life throws your way.
6.2L V8: For some, there's little room to leave for doubt when it comes to performance. Like its smaller incarnation, the 6.2L is equipped with a 10-speed automatic transmission and generates an earth-shaking 420 horsepower and 460 lb-ft of torque. Active fuel management provides a combined 17 MPG, which is remarkable for eight cylinders.
3.0L Duramax I-6 Turbo Diesel: One of the favorite features of the Sierra since 2018, this is the option many people love to go with. 270 horsepower and 460 lb-ft of torque equipped with a 10-speed automatic transmission make efficiency and hard work go together. With the capability to tow 13,300 lbs, this is the workhorse many have been waiting for.
GMC believes in the importance of providing safety to its customers. To this end, you'll find a wide variety of safety features that come standard. Lane departure warning and forward collision warning come with every trim line, as does blind spot monitoring and lane keep assist. Upper trim lines such as the Denali can be equipped with Super Cruise technology. For those who live for off-road adventures, features such as terrain mode and elevated ground clearance will certainly be too enticing to pass up.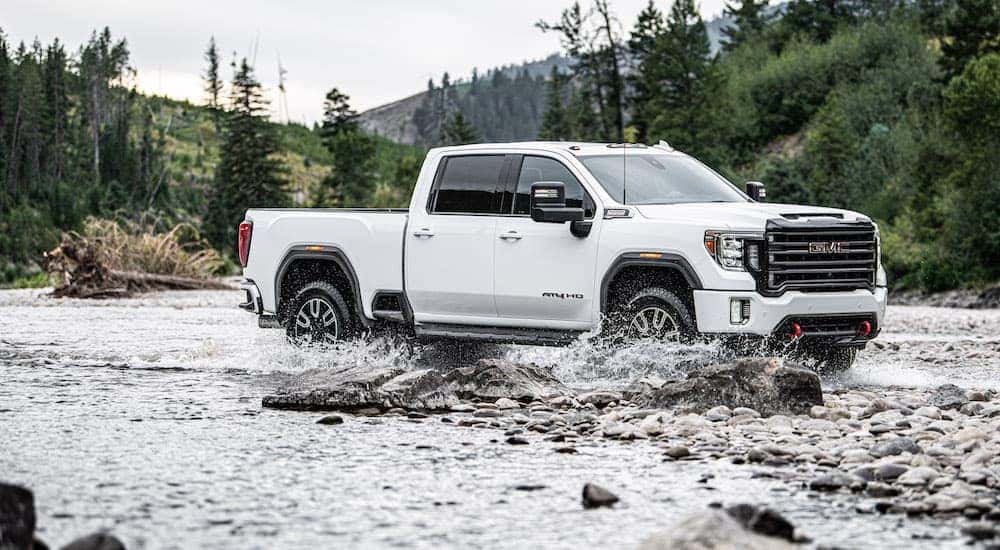 GMC Sierra 2500/3500 HD
Sometimes, the work ahead of you is larger than you've originally anticipated. While a person of less fortitude and integrity would throw up their arms and capitulate, you know better. You understand that anything can be accomplished; it's just a matter of rising to the occasion and having the right tools. In this case, the right tools are GMC's heavy-duty duo of the 2500 and 3500 HD. Because impossible doesn't exist in your vocabulary, does it?
Both models are equipped with two available engines that put the word "duty" in "heavy-duty." The capabilities of GMC's fleet have been impressive, but these are mind-blowing in their execution.
6.6L V8: This bad boy of the big blocks gives the 2500 and 3500 an edge when it comes to high performance. 401 horsepower and 464 lb-ft of torque are impressive and, when paired with a standard six-speed automatic transmission, can accomplish any feat with relative ease.
6.6L Diesel V8: For those of you keeping score with the capabilities of the diesel engine, the hits just keep on coming. The next step in the progression of raw power is found in this weapon from Duramax, which generates 445 horsepower and a jaw-dropping 910 lb-ft of torque. With the ability to push the massive 2500 from 0-60 MPH in less than seven seconds, it's easy to see why Duramax engines continue to elevate the capabilities of what diesel can do.
The towing capability of both trucks leaves many competitors in the dirt. The 2500 HD boasts a maximum towing capacity of 18,510 lbs. Available trailer and bed view cameras for both make the towing one that's safer than it's ever been. In case you have mountains to move, the 3500 HD can tow up to 36,000 lbs when properly equipped. Also, if you want to bring some cargo on your journey, the max 3,979 lbs of payload in the 2500 HD or 7,442 pounds of payload in the 3500 HD will be perfect.
Get the Right Tools for the Job at Coyle Chevrolet Buick GMC
Now that we've given you a general idea of what GMC offers to help you strike it rich, there's only one place to go for the right tools of the trade. At Coyle Chevrolet Buick GMC, you'll find models both new and used that encompass all the great things that GMC has to offer. When the time comes for you to start your search for a new truck, stop by our dealership to consider all your excellent GMC offerings.